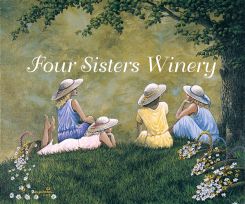 Father's Day BBQ Feast
June 16th 12-4pm
Cost is $30 per person, plus tax and service fee.
$20 for ages 4-10 and ages 3 and under are free.
Free wine tasting (up to 8 samples)
Advance Tickets Required.  Call 908-475-3671
Don't miss out on this very special day.
Join us as we pay tribute to all dads during our annual Father's Day BBQ Feast.  Sunday, June 16th, 12pm – 4pm.  Roasted suckling pork is the focus of this wonderful day on the farm. No need to worry about the weather as the celebration takes place under the party tent.
Menu includes suckling pulled pork, baby back ribs, baked ziti, baked beans, cole slaw and a Cesear Salad. Dessert will be lemon sheet cake smothered with fresh strawberries and whip cream.  
Live music provided by Dylan Carter, one of our best performers of the year in 2018.
"We pay tribute to my grandfather, my father and all dads on this special day," states Matty Matarazzo, owner of Four Sisters Winery. "June is not only the celebration of Father's Day but strawberry month", Matarazzo says with a smile. "My favorite and America's favorite fruit, we have made Strawberry Serena wine, named after my second oldest daughter." A dessert wine bursting with fresh strawberry fruitiness, Strawberry Serena is great served over cheese cake, vanilla fudge ice cream or by itself after dinner. "We will also feature Poppa Joe's Port style wine, named in honor of my Father".
The winery will offer strolling vineyard and wine cellar tours. Wine tasting will feature Papa's Red, a dry, Chianti-style wine named after Matty Matarazzo's grandfather and Strawberry Serena a semi-sweet dessert wine. Over 20 wines will be available for tasting at the winery and wine by the glass or bottle will be available during the day. "Yes, being a father of four daughters, the winery proudly carries its name in their honor," states Matarazzo.
Cost is $30 per person, plus tax and service fee.
$20 for ages 4-10 and ages 3 and under are free.
Free wine tasting (up to 8 samples)
Purchase a glass of wine for $6
The event opens at noon with the wine bar while music fills the air. The buffet is open from 1 – 2:30 and music will continue until 4pm.
Tickets are required for the BBQ Feast by calling 908-475-3671
No other Alcohol and No Pets Please!
Wine by the glass or bottle will be available for purchase.
We are within an hour's drive from most towns in North and Central New Jersey. Gather your friends together, bring along the neighbors, and don't forget your family!
No outside alcohol permitted. Please no pets
Conntinues for the folloeing three weekends from 12noon-4pm! $5 per person hayride takes you to the orchard at Matarazzo Farms where you can purchase as many bags as you like for $20 a bag. Plan an adventure with your family and friends and end up the day on the deck at the winery enjoying some great wines while listening to live music.