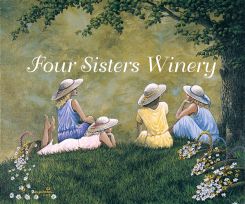 It's our second "Farm to Table" at
Four Sisters Winery!
August 10th 6pm – 10pm
Yes, it's an outdoor under a tent on our deck, "Farm to Table" experience. Chef Matty brings the freshness of the fields, orchards, and artisanal foods directly to your table.
Recording Artist Genevieve
A spunky singer/songwriter with the voice of a fallen angel who specializes in the feels. She's an accomplished musical talent as well as a photographer and journalist whose work has been featured in all manner of media worldwide.
Savor Your Senses: Four Sisters Winery creates multi-sensory, experiences by thoughtfully pairing music performances with wine, food and the great outdoors.
6-7pm Music by Genevieve & Wine Tasting
7-8:30 5 course dinner with wine pairing
8:30 – 10 Genevieve & wine by the glass or bottle
Entree: Roast Beef or Vegetable Lasagna
local grass-fed beef, cheese, vegetables and fruits
$50 pp.
Call for Tickets Today: 908-475-3671
* * * * * * * * * * * * * * * * * *
Vintage North Jersey Wine & Food Festival
August 18th & 19th ! 12noon – 5pm
Six Northern New Jersey wineries will be represented at the Vintage North Jersey Wine and Food Festival on August 18th and 19th
at Four Sisters Winery.
With one-hundred years of respected wine-making experience, this festival will certainly broaden your palate while savoring many styles of wine. Yes, Vintage North Jersey has a lot to offer with member wineries from Warren & and Hunterdon counties offering wine sampling and sales.
The gates will open at 12noon -5pm both Saturday and Sunday. Additional activities: Let your senses journey from Wineries, Food Trucks and Crafters with a variety of items to purchase; favorite wines, scrumptious foods, and that extra special something to take home from vendors scattered through
the festival area.
Participating Wineries: Villa Milagro Vineyards, Brook Hollow Winery, Four Sisters Winery, Hopewell Valley Vineyards, Unionville Vineyards, Old York Cellars.
Food Trucks: Mezoco Mexian Taqueria, and more to come! Specialty food and wine-related vendors and crafters. The festival is centrally located at Four Sisters Winery, Belvidere, Warren County, New Jersey.
Entertainment: On Saturday enjoy The Foxfires a four-piece Seagaze band from New York and New Jersey formed in 2013. Their sound is an oceanic indie rock blend of folk, shoegaze, surf rock, and indie pop. The band has played on stages, both small and large and their music has been featured on radio across the United States and in select parts of the UK. A sound to be reckoned!
Sunday enjoy We May Be Right – Billy Joel Tribute Band We May Be Right pays tribute to the music of Billy Joel by performing faithful reproductions of songs in his catalog. A tight, professional team of NJ/PA musicians who happen to love Billy's music. We May Be Right takes great care to reproduce every nuance, every riff, and every note of the songs they play.
So, come out and enjoy the afternoon at Vintage North Jersey Wine & Food Festival.
Click For Tickets
Tickets: Tickets on sale
VintageNorthJersey.com
One Day Advance tickets are $15
includes a souvenir wine glass
Tickets at the gate are $25 for one day
and $45 for two day
Two Day Advance tickets are $30, which includes souvenir wine glass
Non-drinking attendees are $10 at the gate.
Easily accessible from Route 80, Four Sisters Winery is located off exit 12, six miles south on County 519 and 2 miles north of Route 46. For more information call Four Sisters Winery
at 908-475-3671
We love furry friends, however we have a no-pet policy. Thank you for understanding!
* * * * * * * * * * * * * * * * * *
New Wine Release this weekend!
Warren Hills White
Just the right amount of sweetness for these
hot summer days and nights.
Saturday Aug 11th MUSIC ON the DECK
2-7pm The Entertainer ~ Dylan Carter
Dylan Carter, The Entertainer, comes to Four Sister's Winery on
Saturday, August 11th from 2-7pm
Enjoy the vocal/piano stylings of Dylan as he plays songs from the 60s, 70s and more. From Billy Joel to Elton John to the Eagles, Dylan plays a variety of styles that we like to affectionately and reverently call classic rock, keeping alive the signature sounds of the period.
The deck will be open from 11am – 8pm with wine tasting and our
Cafe Vino Menu available from 11am – 7pm.
Grilled Chicken Caesar Salad
Pianini Pizza with three toppings
Nachos Supreme with tomato/s, salsa, avocado and a 3 cheese blend
Cheese Plate with meat, fruit and 3 kinds of cheese
Grilled Cheese Sandwich with pickles on a flat bread
Look for our daily specials!
Saturday Happy Hour 4-7pm
Fish n' Chips with coleslaw or Wings n' Sticks (sweet, hot or spicy)
with a glass of wine $12
www.foursisterswinery.com
MUSIC on The DECK
Sunday Aug 12th 12:30- 4:30
Back by Popular Demand
Janci & Berry
The 50's, 60's and 70's music with classic country and more is the style that JANCI and BERRY bring to Four Sisters Winery. With an eclectic mix of songs, Joe and Rich using two-part harmony as the upfront feature developed THEIR versions of songs by The Everly Brothers, The Louvin Brothers, and other great harmony groups.
Joe Janci and Rich Berry have been friends and musical partners since the mid-1970s. They were first part of a country rock group called, Pure Spirits. After the group disbanded, the two formed a duo brought together by similar tastes in music and a love of vocal harmonies.
Joe is a prolific writer and the duo performs many of his songs as well. So if you love vocal harmonies, you'll enjoy listening to Janci & Berry.
* * * * * * * * * * * * * * * * * *
Enjoy our Cafe Vino with our BBQ Sunday menu and a glass or bottle of your favorite wine on the outdoor deck under the tent or out in the open overlooking the picturesque 250-acre farm.
BBQ Ribs or Pulled Pork Sliders with two sides and garlic bread!
Grilled Chicken Caesar Salad
Nacho Supreme, Panini Pizza with three toppings
Grilled Cheese with pickle and Cheese Plate
Complimentary Wine Tastings and Vineyard Tours
We are now Open 6 days a week from 10am – 6pm
Friday until 7pm & Saturday until 8pm
Closed Wednesday
August 26, 2018, 4:00 pm: Murder Mystery Dinner
September 8, 2018, 5:00 pm: Grape Stomp
September 23, 2018, 4:00 pm: Murder Mystery Dinner
October 6, 2018, 5:00 pm: Grape Stomp
November 3, 2018, 4:00 pm: Grape Stomp
November 11, 2018, 3:00 pm: Murder Mystery Dinner
November 18, 2018, 4:00 pm: Murder Mystery Dinner Sold Out
December 9, 2018, 4:00 pm: Murder Mystery Dinner