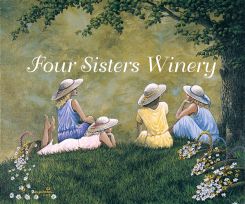 Four Sisters Winery has had a face lift……
and we want to show you our new improvements!
Yes, the winery has been suffering from old age being one of the oldest wineries in New Jersey so we thought it was about time
we made some serious improvements. On April 29th and 30th we will share those improvements with you as we host an open house with free food and wine tastings, classical music and a formal introduction via tour of our new improvements.
Please join us as we celebrate a new era for Four Sisters Winery. The Open House runs from 10am – 6pm both Saturday and Sunday.
The deck, which was expanded last Spring will be open for your outdoor enjoyment over looking our vineyards.
Follow us on Facebook and continue to check out our web page for an all new exciting list of events throughout the season.
Uncork Spring at Mercer County Park – April 29th & 30th
Mark your calendar for one of the best new events to come along in New Jersey! "UNCORK Spring at Mercer County Park" is going to get the 2017 festival season started with a wine festival poppin' with fun on April 29 – 30 from 12 noon to 5pm each day at Mercer County Park in West Windsor Twp. Featuring wine samplings from 15 of New Jersey's best wineries, food trucks, artisan crafters, live music, kids activities and more – this event is sure to please!
Dates: Saturday, April 29, 2017 and Sunday, April 30, 2017 12-5pm
Address: Mercer County Park – 1638 Old Trenton Road, West Windsor, NJ
Cost: $15 in advance, $20 at the gate  FOUR SISTERS WINERY will be there!
May 7, 2017, 11:00 am: BBQ Sunday
May 14, 2017, 12:00 pm: MOTHER'S DAY BRUNCH
May 21, 2017, 12:00 pm: BBQ Sunday's!
May 21, 2017, 4:00 pm: Murder Mystery Dinner
May 28, 2017, 12:00 pm: BBQ Sunday's!
June 4, 2017, 12:00 pm: BBQ Sunday
June 11, 2017, 12:00 pm: BBQ Sunday
June 18, 2017, 12:00 pm: FATHER'S DAY BBQ FEAST
Grape Stomping: May 6th, 2017 2-5pm
Murder Mystery Dinner: April 23rd 2017 2-5pm
Mother's Day is a universal holiday celebrating women across the country that have spent countless hours caring for children. In honor of these special women, Four Sisters Winery devotes the weekend in observance of the best mother ever…the mother in your heart!
This year we celebrate this event on Sunday, May 14th from 12noon to 4pm!  Please make your reservations early as this event has limited seating.
Italian Chef Matty Matarazzo promises a meal fit for that perfect Mom as he introduces his new Brunch menu.  Enjoy the beautiful surroundings of the winery's open air under a large party tent.
Everything will be made fresh including blueberry pancakes, casseroles, deviled eggs, French toast, Frittata, fresh fruit and homemade granola.
Live Music will entertain guests from 12noon – 4pm. Wine bar opens at 12noon – 4pm.  Buffet will be served from 1pm – 2:30pm
All for $32.95 plus tax and gratuity.
Ages 4 – 10 $18 per person plus tax and gratuity.
Ages 3 and under Free.
Tickets are REQUIRED by calling 908-475-3671
Wine Tasting: 8 wines $5 per person or
Enjoy a glass of wine $5 per glass
Combine both 8 tastings and a glass: $9 per person.
Bring the whole family, stay as long as you like and experience a wonderful day at the winery.
Father's Day BBQ – Sunday, June 18th 12-4pm with live music, games and fun for the whole family.
Pulled pork, pork ribs, and chicken with baked beans, coleslaw, baked potato's, salad, bread and dessert.
More details to come soon!