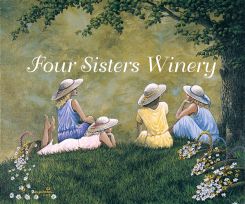 Cupids Wine and Chocolate Weekend!
There is never too much chocolate. Come out and enjoy a variety of chocolate treats including wine balls, chocolate wine and wine cake.
$6 per person from 11-5 February 17th, 18th, 24th and 25th
Barefoot Grape Stomping Event
February 24th from 2-5pm
Incudes spagetti dinner, meatballs, salad, bread and dessert.
Also includes a formal wine tasting and the foot massage of a life time and a tour of the wine cellar.
$35 plus tax and service fee
*Hummus Mania March 3rd & 4th 11am-5pm It's time for hummus! Join us for a variety of hummus and some wine. A sampling of each and a glass of wine of your choice! Flavors include Roasted Red Pepper, Sweet Potato & Dark Chocolate!
*Pasta Party! March 10th & 11th 11am-5pm It's a Pasta Party at the Winery! Enjoy your choice of pasta, along with your favorite glass of wine. Your choice of Ziti w/ red sauce, Penne w/ garlic & butter, or Tortellini w/ pesto!
*St. Patrick's Day Weekend March 17th & 18th 11am-5pm There's a little Irish in everybody! Enjoy corned beef sliders & celebrate the best way, by joining us for some St. Patty's Day fun!
*above events $10pp Includes embossed wine glass, glass of wine, wine tasting & cellar tour
Look for more info on our Adult Easter Egg Hunts! March 25th, 30th & 31st
Just a little history!
It was quite an undertaking in the early 80's when Matty and Laurie Matarazzo gave thought to provide for their four daughter's future education. Planting vines in 1981 and opening the doors in 1984 with 5 wines, Four Sisters Winery now offers over 20 wines to select from. The four sisters; Melissa, Serena, Robin & Sadie have earned double masters and Melissa completed her PHD in Education. They currently are perusing their careers in education and social work.
The next generation, 5 grandchildren: Ethan, Mia, Oscar, Seth and Laura are now the focal point with a release of Nipote Red (grandchildren in Italian). The proceeds of this wine carries on the tradition of providing for the future education of
the Matarazzo family.
Matty continues at the helm as owner, winemaker and chef at Four Sisters Winery. Laurie, our first winemaker went on to become an Episcopal priest after spending 8 years as the winemaker. She is currently retired and continues to coordinate retreats.
************************************
************************************
The winery is open 10am – 6pm for complimentary wine tasting and wine cellar tours.
***************************************
March 17, 2018, 2:00 pm: Murder Mystery Dinner
April 14, 2018, 2:00 pm: Murder Mystery Dinner
April 27, 2018, 4:00 pm: Murder Mystery Dinner
May 13, 2018, 12:00 pm: MOTHER'S DAY TRADITIONAL DINNER
May 27, 2018, 4:00 pm: Murder Mystery Dinner
June 17, 2018, 12:00 pm: FATHER'S DAY PIG ROAST
June 24, 2018, 4:00 pm: Murder Mystery Dinner
July 22, 2018, 5:00 pm: Murder Mystery Dinner
August 26, 2018, 4:00 pm: Murder Mystery Dinner
September 23, 2018, 4:00 pm: Murder Mystery Dinner
November 18, 2018, 4:00 pm: Murder Mystery Dinner
December 9, 2018, 4:00 pm: Murder Mystery Dinner