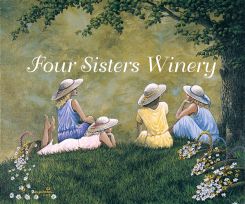 Look for weekend specials through the winter such as Soup Sunday's, Chocolate Weekends and much more….
Social distancing and masks required at all times unless you are eating or drinkingMurder Mystery Dinner once a month towards the end of each month. Book early as the first one already sold out.
. We will be doing grape stomps up to 3 Saturday's a month with limited seating for each event. Thank you for understanding and please book early.
We love furry friends, However we have a No Pet Policy.
Thanks for understanding.
Valerie L. Tishuk
Administrator
Four Sisters Winery
908-475-3671
Food and wine available for purchase.
Call 908-475-3671
908-475-3671
Murder Mystery – January 30th, 2021 1-3:30pm Sold Out! Next MM February 28th.
The murders continue at Four Sisters Winery! It's just for fun during our Murder Mystery Dinners. The event begins with a formal wine tasting, followed by a delicious dinner. And, now it's time for an unraveling plot, a victim, a murderer, and a cast of characters. Let's not forget the detectives! The cast of characters are selected and the mayhem begins. Through the process; great fun and a twisted story line leaves everyone guessing. Let's add a little spice to the event, you can embellish to your hearts content. Complimentary wine glass included $45 pp, tax included
Awards: Best Actress, Best Actor, Best Detective! 1-3:30pm $45pp
GRAPE STOMP – January 9th SOLD OUT, 16th SOLD OUT, and 23rd 2021 1-3pm! Always Stomping Time at Four Sisters Winery!
It's a bit of nostalgia, a tasting of wine, something to do with friends for a special time! Formal wine tasting, Delicious dinner and an educational wine cellar tour describes the processes of wine making and then off with the shoes and socks for the ever-popular Barefoot Grape Stomping. Complimentary wine glass included $35.00 per person plus tax is our winter special pricing. This price will be offered through March 2021.
GIFT CERTIFICATES are available for 2021 events
Tickets are required – call 908-475-3671
We are now Open 7 days a week from 10am – 6pm
January through April 10am-5pm, Monday, Thursday and Friday and 10-6pm Saturday and Sunday.
Closed Tuesday and Wednesday's through the winter.
May through December open 6 days 10-6. closed Wednesday
November 29th through December 24th open 7 days a week 10am – 6pm.