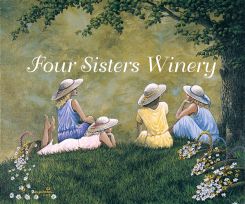 Follow us on Facebook and continue to check out our web page for an all new exciting list of events throughout the season.
Paint n' Sip  July DTB 6pm – 9pm
Four SISTERS Winery invites you to a one hour tour of the wine cellar and a tasting.
Followed by a two hour Glass Sip and Paint event. Grab your friends and unleash your inner artist!
Guests will be served cheese, crackers, dipping oils and hearty breads!
Wine will be available for you to purchase. The creative painting event will include 2 stemmed wine glasses, you will be guided through the entire creative process from beginning to end! The theme for painting will be optional, we will bring different designs for you to choose from! This is about your creativity. free flowing event no stencils used.
☆ it's all about the experience and FUN!
☆RESERVATION & payment REQUIRED.
Credit cards accepted
☆ call 570~618~3080
☆☆☆☆☆☆☆☆☆☆☆☆
•Cost: $50 per person
•Cancellation policy is two weeks prior 100% refund, one week prior 50%. refund.
•make your reservations & payment in advance
570~618~3080
Beaver Creek Red Festival featuring Magnolia Street String Band on Saturday and Shoryside Duo on Sunday!
July 22nd and 23rd from 12-5pm with great food all made with Beaver Creek Red Wine.
More details to come soon!