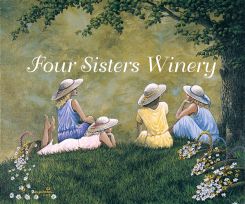 Four Sisters Winery Celebrates
33rd Anniversary
November 24th, 25th & 26th
12noon – 5pm
NEW WINE RELEASE
Proprietor's Red Reserve
Winemaker Matty Matarazzo announces the release of
Proprietor's Red Reserve
This dry red wine is a blend of our estate grown Corot Noir and Leon Millot grapes. A distinctive deep red wine with attractive berry aromas and earthy finish embodies the flavors of the Warren Hills Viticulture area.
Just a little history!
It was quite an undertaking in the early 80's when Matty and Laurie Matarazzo gave thought to provide for their four daughter's future education. Planting vines in 1981 and opening the doors in 1984 with 5 wines, Four Sisters Winery now offers over 20 wines to select from. The four sisters; Melissa, Serena, Robin & Sadie have earned double masters and Melissa completed her PHD in Education. They currently are perusing their careers in education and social work.
The next generation, 5 grandchildren: Ethan, Mia, Oscar, Seth and Laura are now the focal point with a release of Nipote Red (grandchildren in Italian). The proceeds of this wine carries on the tradition of providing for the future education of
the Matarazzo family.
Matty continues at the helm as owner, winemaker and chef at Four Sisters Winery. Laurie, our first winemaker went on to become an Episcopal priest after spending 8 years as the winemaker. She is currently retired and continues to coordinate retreats.
************************************
Cafe Vino (on the deck) continues
through November
You can't beat the view from our deck
with window sides and heaters!
featuring our
BBQ, Pulled Pork Sliders, Chicken Sliders
Warmed Holiday Seasoned wine
Hot Coco
Chilled Wine by the Glass or Bottle
Cheese Plate with meat, fruit and variety of cheeses
$8 each
***************************************
Holiday Wine Trail
New Jersey's Finest
November 24th, 25th, 26th
12 noon – 5pm
Spend Black Friday, Saturday, & Sunday far from the mall crowds, in the safe confines of New Jersey's tasting rooms. Most wineries in the state will participate in the Association's Wreath & Ornament program. Visit a participating winery to receive a complimentary grapevine wreath and commemorative holiday ornament, and then collect additional ornaments at each participating winery thereafter!
YES, FOUR SISTERS WINERY is a participating winery with home-made wine cork ornaments. The winery is open
10am – 6pm for complimentary wine tasting and wine cellar tours.
***************************************
Christmas in the Country Trail
Wyckoff's Christmas Tree
Where Family Traditions
Begin & Continues
November – 24th – Dec 24th
features three most unique Warren County farms: Wyckoff's Christmas Tree Farm, Mackey's Orchard and Four Sisters Winery.
With a $5 minimum purchase at each farm, receive a stamp and at the last farm you will receive a pair of Christmas in the Country wine glasses. cictrail.com