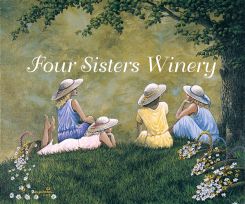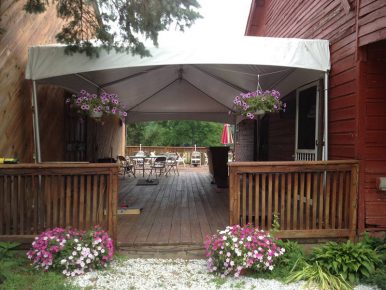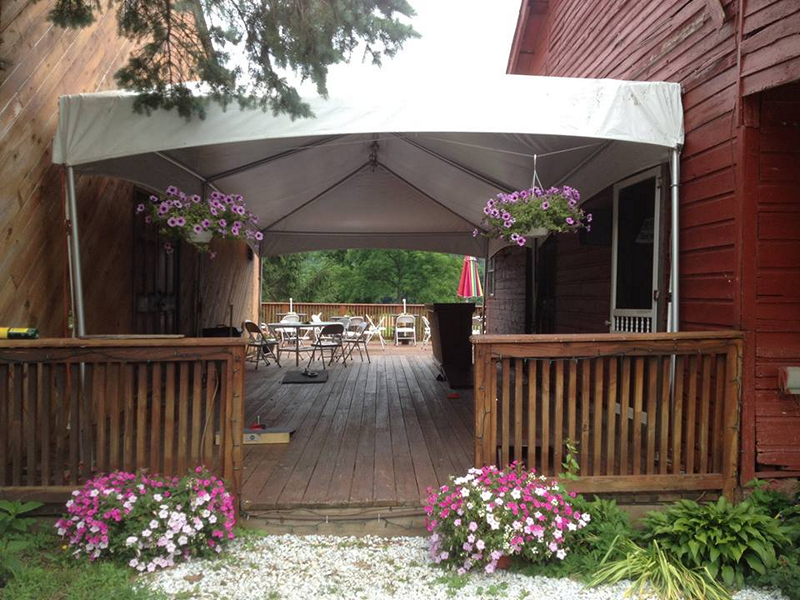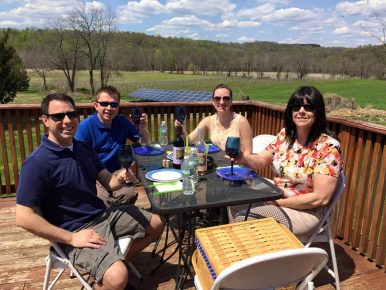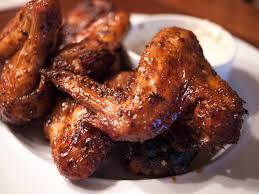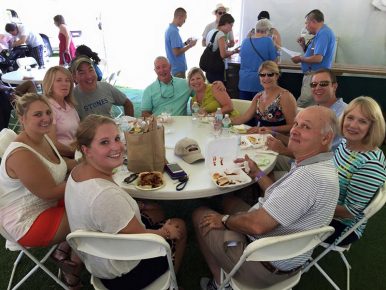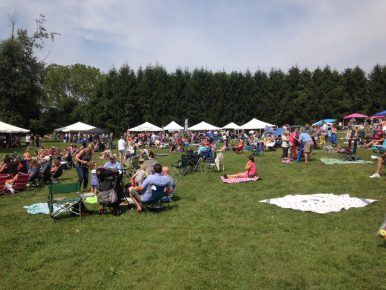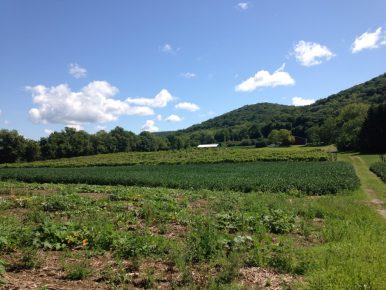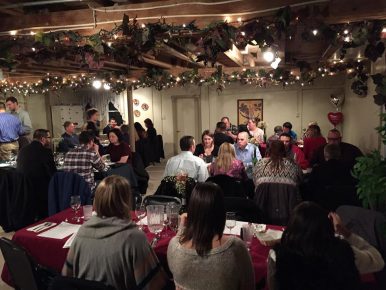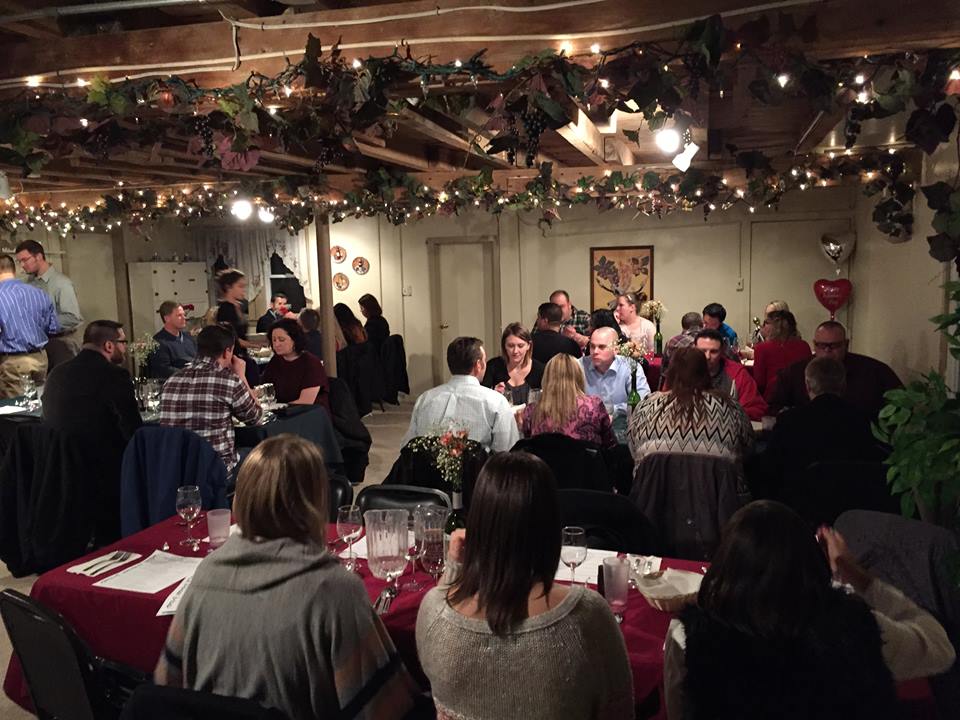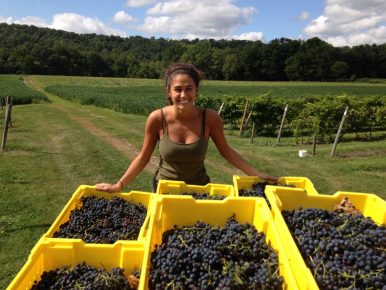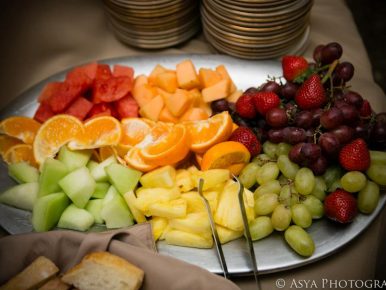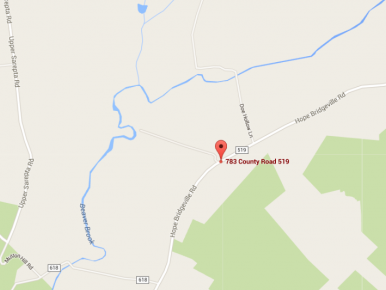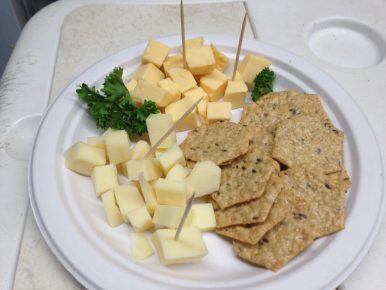 Weekend Themes
Our famous Fish and Chips or Wings and sticks (zucchini sticks) are now on Saturday night from 5-8pm. $12 includes a glass of wine and a caesar salad. No reservations needed but helpful. Friday night happy hour 5-7 with cheese platter or nacho's and salsa.
Our cafe menu will be available from 11-7pm with a special of our famous Cheese Steak with peppers and onions for $8.
Cafe Vino July Menu now available Saturday and Sunday! Full Menu on Saturday and our full BBQ menu is available on Sunday.
Nacho's Supreme – three colors of chips, three blends of cheese, sour cream, avacado, and chopped tomoatoes and hot peppers. Sour cream on the side. $12
Cheese platter with fruit, nuts, meat and three kinds of cheese and two kinds of crackers. $10
Grilled cheese on sweet Italian bread with pickles or chips on the side. $10
Pita Pizza Supreme with up to 3 toppings. Choice of pepperoni, mushrooms, onions, peppers, sliced tomatoes, or chili. $12
Grilled Chicken Cesear Salad with homemade cesear dressing and pita bread. $10
Sunday BBQ Menu
Ribs with two sides, salad and bread. $12
Pulled pork sliders with two sides and salad. $12
Barefoot Grape Stomping Event
August 11th from 5-8pm
Incudes spagetti dinner, meatballs, salad, bread and dessert.
Also includes a formal wine tasting and the foot massage of a life time and a tour of the wine cellar.
$37.50 plus tax
Farm to Table August 10th 6-10pm Featuring recording artist Genevieve
This promises to be a night to remember as it will be our second Farm to Table Dinner at Four Sisters Winery. Featuring produce from local farms and wine from our winery, including a serving of our Apple Port Wine, Captains Choice.
Farm to Table Dinners have a special ambiance with an open air feast bringing together the gifts from the land. From
Dry Aged, 100% Grass Fed Beef from Beaver Brook Ranch, (Hope, NJ)
to Jersey Fresh vegetables from Henslers Farms and Donaldsons Farm(Hackettstown, NJ) and Artisan Cheeses from Fulper Family Homestead (Lambertville, NJ).
It's a Five Course Meal to include Wine Pairing
Appetizer:
fresh sliced New Jersey Tomatoes topped with Mozzarella Cheese, olive oil and fresh-cut basil
Salad
Caesar Salad with Romaine Lettuce and creamy Caesar dressing
Roast Beef – succulent grass-fed braised beef from Beaver Brook Ranch with roasted beets and carrots and red wine come together in cozy harmony.
Vegetable Lasagna with fresh local vegetables and artisan cheeses from Fulper Family Homestead including there home made mozzarella cheese.
Dessert – Always a surprise but promises to be delicious.
Music Genevieve
Genevieve is an American Singer-songwriter performing on the piano supporting her sultry, bluesy ,earthy and sometimes sweet and soft raw vocals. Gen is a musical theater major, who has just recently returned to the USA, after spending eight years in the South African bush, working with wildlife. Gen is now looking to return to her musical roots as a performer.
A pure, clear heartbreaker of a voice supported by a catchy piano-heavy mix of pop/folk/country/blues music that channels Sara Barielles, Annie Lennox, Bonnie Raitt, Rose Cousins, and Florence and the Machine. A seasoned performer whose work has been featured on hit TV shows, and whose voice can be heard on commercials worldwide.
Performing in places as large as The Kennedy Center and Dodgers Stadium, to those as small and intimate as cafe's and house concert living rooms. Gens voice is not only versatile, she uses its versatility to her advantage truly as her instrument, with the piano as support. Everywhere and every time Genevieve performs, she pleases every crowd with her unique style that always shines thru.
Cost for dinner is $50 per person. There will be limited seating on our deck overlooking the beautiful countryside, so please call early to purchase your Farm To Table Tickets –
973-475-3671.
Murder Mystery Dinner August 26th 5-8pm
The Vintners room will be set for that very special evening including a formal wine tasting, dinner and the Murder Mystery. Menu includes baked ziti, meatballs, bread, salad and dessert. The family has gathered and without notice one of them just falls to the floor. Who died? Who was the murderer? You will have to come and see and be part of the show.
This special dinner is $37.50 per person plus tax
Wine tasting, tours, cafe menu and personalized wine labels available on weekends.