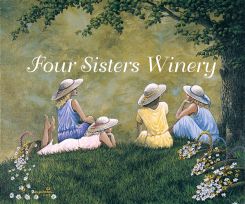 Upcoming Stomps
2021 dates
$42.50 per person plus tax
Reservations required.
Book early as this event will sell out every time.
Please call the winery at 908-475-3671 for tickets.

		


		

	






Barefoot Grape Stomping 2021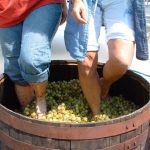 2021 Grape stomping dates now available!
Four Sisters Winery has the perfect opportunity for you to embrace any season with their barefoot grape stomping events held on select dates throughout the year! Kick off your shoes and get ready for an unforgettable experience with some barefoot grape stomping fun! Spend the afternoon enjoying good company and of course, some delicious wine!
Yes, take off those shoes and socks and roll up your pants and get ready to do some barefoot grape stomping. Bring out the Lucy in you while you stomp to the music and feel the sensation between your toe's. It is a once in a lifetime opportunity to have some real fun using only your feet. Formal wine tasting, delicious dinner and cellar tour and ending with a tasting of our dessert wines. Includes wine glass to take home.
Everyone also goes home with a wine glass as a memento to your evening. The day is sure to leave you satisfied with award winning wines from the list of over 20 varieties produced at the winery. But the fun isn't over yet, it's time to step into a barrel and feel the grapes between your toes which never fails to be the perfect photo op! The afternoon concludes with an educational wine cellar tour and a chance to sample the specialty dessert wines & one of our after dinner port-style wines. $42.5 per person plus tax. Winter hours are 1-3pm and limited seating as we continue through the pandemic.
2021 dates for Grape Stomps:
2021 Fall dates August 28th, Sept. 11th, 18th, 25th Oct 2nd, 9th, 23rd all 4-7pm $42.50.
Conntinues for the folloeing three weekends from 12noon-4pm! $5 per person hayride takes you to the orchard at Matarazzo Farms where you can purchase as many bags as you like for $20 a bag. Plan an adventure with your family and friends and end up the day on the deck at the winery enjoying some great wines while listening to live music.