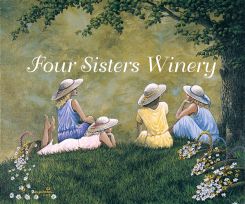 Wine tastings $5 for up to 8 wines. We now offer two options for your wine tasting list. We offer a Sweet to Semi Sweet list and a Dry to Semi Dry list each with six wines to select from. To enjoy your 8 wines you can choose 6 wines from your preferred list and two wines from the other list. Wine available by the glass or bottle for sitting in the winery or on our beautiful deck. Full Vineyard View Bistro Menu available on weekends from 12-5. Live music from 12:30-5. Open Saturday until 7pm and Sundays from 10-6. Monday, Tuesday, Thursday and Friday 10-6pm. Bistro opne 12-5 on weekends.
Live music every weekend!The Vineyard View Bistro is available from 12-6 on Saturday and 12-5 on Sunday.
Call us at (908)-475-3671
www.foursisterswinery.com
Conntinues for the folloeing three weekends from 12noon-4pm! $5 per person hayride takes you to the orchard at Matarazzo Farms where you can purchase as many bags as you like for $20 a bag. Plan an adventure with your family and friends and end up the day on the deck at the winery enjoying some great wines while listening to live music.