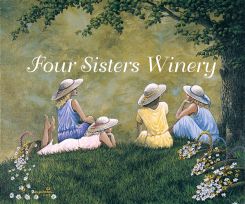 There's a Kid in all of Us!     Adult Egg Hunt   ~  Sunday, April 16th   at 11am & 2p
Now's the time to capture a bit of your youth . . .  Yes, Four Sisters Winery will once again be hosting an Adult Egg Hunt in the Vineyard.  
It's just for fun and no, there's no competitive edge needed.   Formal Wine Tasting, Vineyard Tour and a chance to win tickets to a
barefoot grape stomping or murder mystery along with other prizes.   Includes light refreshments  
*Tickets required: $20 per person  ~  Ages 21 + older  Call 908-475-3671
Limited space and sells out so call early for tickets!
Call us at (908)-475-3671   www.foursisterswinery.com
SIP N' Paint at Four Sisters Winery
Let your creative energies soar at Four Sisters Winery' Sip N' Paint!
You'll enjoy a formal wine tasting (8 wines!!), a delicious charcuterie plate, and customize two wine glasses!  
Your only limit is your imagination but your host will be there to guide and help bring your vision to life!
Wine will be available by the glass or bottle!  We can not wait to see you get your artistic side going!
Tickets are $40 per person plus tax and tickets are required.  Event is 21+.
Call us at (908)-475-3671
www.foursisterswinery.com